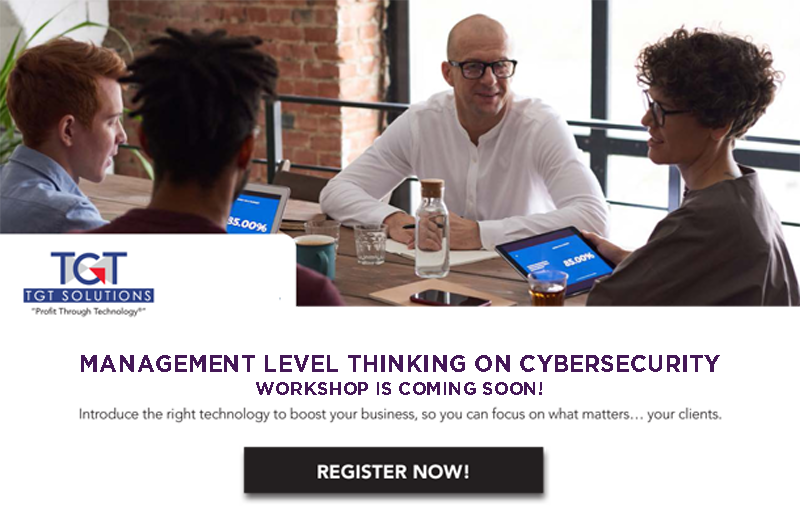 With the world increasingly pushing business operations online, cybersecurity has never been more front-of-mind. Meanwhile, cybercriminals are taking full advantage of the uncertainty and chaos, so organizations have never been more vulnerable as they scramble to adjust.
Join us on July 14 to receive a FREE
10-Hour Cybersecurity Assessment!*
For many organizations, the pressure of converting their offices to accommodate work-from-home arrangements, coupled with a need to keep sales coming in quickly and cost-effectively, means that security issues are being delayed or forgotten. But criminals aren't taking a break, which means you could be putting your company's information and trade secrets or your customer's personal data at risk.
Lock down your systems. Protect your
company's most valuable assets.
Join TGT Solutions' CEO Robert Maxwell for our free Management Level Thinking on Cybersecurity Workshop, where he'll review the key areas where businesses are most at risk and discuss steps you can take today to secure and protect your organization's most valuable digital assets.
This workshop will cover cybersecurity concerns in four key areas and practical examples to support each area mentioned.
Join us on 14th July from 11:30 am-12:30 pm
Learn how to think about your organization's cybersecurity risk, and walk away with practical ideas you can implement right away to make sure your organization's digital assets are protected.
Register here to save your spot today.
We look forward to seeing you on July 14.